PRESS RELEASE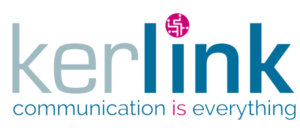 VERSAILLES, France – May 30, 2017 – Mahoney Lyle, an international communications agency that specializes in building global identities for Internet of Things (IoT), telecom and microelectronics companies and other technology innovators, today announced it is creating and executing worldwide communication programs for Kerlink, the fast-growing pioneer of IoT solutions.
Kerlink (ALKLK – FR0013156007) provides equipment, software and services to telecom operators, smart cities and companies of all sizes worldwide that want to launch and operate IoT networks on LoRaWAN™. The Low Power Wide Area (LPWA) network provides the cost-savings and energy-efficiency features required for rapid worldwide implementation of the Internet of Things.
Based in Thorigné-Fouillard, France, Kerlink is a founding member and board director of the LoRa Alliance. The company went public in 2016 and has achieved a compound average annual growth rate above 50 percent since 2013. Fiscal 2016 revenue nearly doubled vs. 2015.
Mahoney Lyle, which has specialized in communicating about the IoT since 2012, will partner with Kerlink to design and execute the company's strategic communication and marketing programs across diverse platforms, such as public relations, analyst relations and social media, to support the company's expansion in Europe, the U.S. and Asia Pacific.
"Mahoney Lyle early on established its expertise in delivering sophisticated and proactive Internet of Things press, analyst and media communications programs on the international stage," said Stéphane Dejean, Kerlink's chief marketing officer. "Their team offers Kerlink the experience, professional counsel and rapid response needed to support our ambitious international growth plans."
"Kerlink, which reflects the vitality of France's innovative tech sector, will accelerate implementation of the Internet of Things by telecoms, smart cities and individual companies, globally," said Amélie Ravier, Mahoney Lyle's director of PR and social media. "In addition to its innovative, proven IoT solutions, Kerlink is a powerful example of how technology entrepreneurs can create and quickly ramp up a company to meet industry needs worldwide."
About Mahoney Lyle
Mahoney Lyle Communications brings more than three decades of combined experience in creating and executing strategic communications plans and programs for tech clients that want to rapidly build their international identities. The agency's messaging and execution expertise covers the Internet of Things, telecom, and the entire microelectronics value chain. ML's size and entrepreneurial mindset assure a rapid response to client opportunities using PR, social media and other platforms. See mmm.mahoneylyle.com or follow ML on Twitter.
About Kerlink
Kerlink specialises in network solutions for the Internet of Things (IoT). Its mission is to provide its clients – telecom carriers, businesses and public authorities – with network solutions (equipment, software and services) dedicated to the Internet of Things. Over the past three years, Kerlink has invested more than €8 million in R&D. In just over 10 years, more than 70,000 Kerlink installations have already been rolled out for more than 260 clients, including GrDF, Suez, Saur and Médiamétrie. In 2016, Kerlink generated revenues of €14.1 million, 25% of which internationally. Since 2013, it has posted average annual growth of more than 50%. Kerlink has been listed on Alternext Paris since May 2016.
For more information, visit www.kerlink.fr or follow us on Twitter